Summer evening at the Danish Embassy in London
Thank you to everyone who joined Human Practice Foundation's Annual Summer Reception at the Royal Danish Embassy.
It was a pleasure having you there, and we are grateful for your engagement and commitment to making a massive difference for children and communities in areas of the world, where it is needed the most.
It was a very special and heart-warming evening, and thank you for joining us in making it both festive and impactful. We are grateful for your generosity to support both Tappu Devi Secondary School and Akadeli Primary School. For more information about the Kenyan school, click here: Akadeli Primary School.
Below is a photo of Masai Mara High School, which we renovated from the donations we received from last year's Summer Reception, and just opened.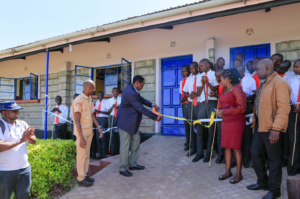 If you did not manage to make a pledge on the evening and would still like to do so, you can donate through the link provided here: https://www.humanpractice.org/i-want-to-support/. Every contribution helps make a difference.
Your donation is eligible for gift aid as a registered organization in the UK.
We hope to see you at one of our other events in the future. We are looking to build a community for like-minded people around Human Practice Foundation's work.  If you would like to learn more about Human Practice Foundation, please do get in touch with me.
Thank you for your support in helping Human Practice Foundation change children's lives, thank you also to our sponsors F Trust AG and YOULEND.